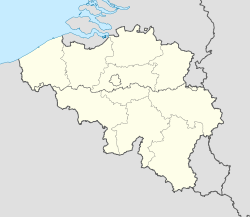 ROUND DANCE LEADERS IN BELGIUM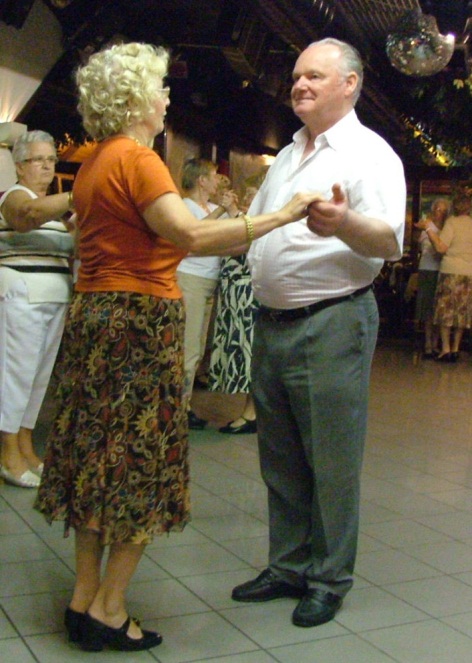 Jos Dierickx is from the North of Belgium, the Flemish area. He was already a retired carpenter/furniture dealer when he met Elly, by then a dancer with one year experience. In 1998 Jos and Elly founded their own dance group in Beringen (Province of Limburg, Campine) where they teach round dancing up to soft phase V, as well as sequence dancing. As is common to many "golden age" groups in the Flanders, the cues for most rhythms (except tango and bolero) are translated into Flemish.
Jos and Elly live

in nearby Paal, a nice town with a recreational area, the "Paalse Plas" with ponds, a sailing lake and a golf course. The annual "Paal op Stelten Music Festival" attracts 20,000 visitors each August.
Jos is also the chairman of the local gymnastic group Palfit Paal where he teaches, 4 times per week, both competition and recreational gymnastics to youngsters. Elly shares his attachment to gymnatics and she also likes to walk, ride her bike and swim.
Writing choreography is Jos' favorite passtime, almost a compulsion. At this time he has choreographed almost 400 dances. Most of his music comes from ballroom CDs. His choreography is strictly standard except for his favorite figure, which he calls the "Lace Box" (mostly known to Round Dancing as the "Left-Turning Box With Lace" introduced by the Koozers in the 1990s)
LACE BOX: The man's footwork is that of a regular Left Turning Box. The lady accompanies him on the first and fourth measure. On measure 2 however, the man raises the joined lead hands and the lady waltzes forward under the arms, then around to face on measure 3, much like a "Lace Across to Face".
The following description assumes starting in CP with the man facing Line of Dance.
Measure 1: Man: Forward L commencing to turn 1/4 LF, side R completing the turn to face COH, close L. Woman: Back R commencing to turn 1/4 LF, side L completing the turn, close R. Now CP COH.

Measure 2: Man: Raising joined lead hands back R commencing to turn 1/4 LF, side L completing the turn to face RLOD, close R. Woman taking small steps under the joined lead hands forward L, R, L towards WALL (no turn) - At the end of this measure partners are in a (very brief) momentary "L" position with the man facing RLOD and the lady facing Wall. The arms are still high as the lady has not passed the man completely yet.

Measure 3: Man: Forward L commencing to turn 1/4 LF, side R completing the turn to face WALL, close L. Woman describing 1/2 RF circle forward R still underarm, as arms come down forward L, forward R to CP WALL.

Measure 4: Man: Back R commencing to turn 1/4 LF, side L completing the turn to face LOD, close R. Woman: Forward L commencing to turn 1/4 LF, side R completing the turn, close L. Now CP LOD.
Dierickx Choreography
* * *
Marcel and Chris Van Acker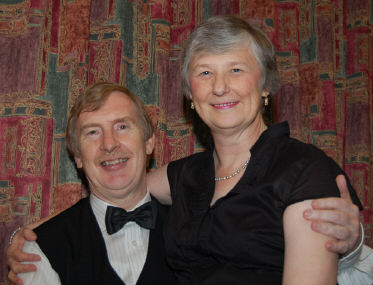 Marcel and Chris are also from the Northern, Flemish-speaking part of Belgium, living and teaching in the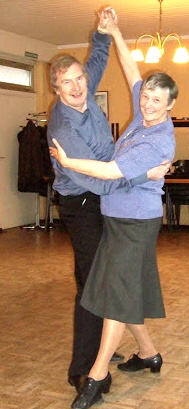 Antwerp area.
They met in a dance class and started dancing together when they were 18 yrs old, getting together up to 5 times per week to do ballroom, sequence, old time, rock'n roll ... i.e. just about any kind of dancing that was available. As soon as it appeared in their area, they joined a Square and Round Dance Club and were totally seduced by the wide choice of rhythms and routines that Round Dancing offers. Marcel has been cueing since 2001 (in English).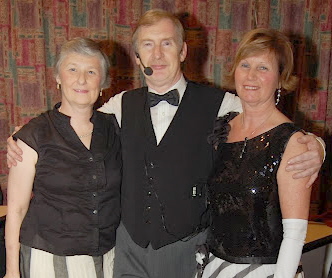 Marcel holds three dancing classes/dances per week (III to VI), his main interest being in students who are keen to learn and enjoy a challenge. As Chris, who suffers from painful thin-wall veins in the lower body, is restricted from dancing too long or too fast, Marcel has the good fortune of having a second partner, currently Bea Van Durme, a club single dancer, who helps with teaches and demos.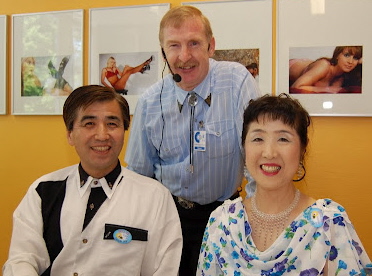 Because of their enthusiastic appreciation of Japanese leaders Takao and Setsuko Ito's choreography, a solid friendship developed between them and a group of Itos' club members visited the Van Ackers' club in the Summer of 2010.
Marcel is also a keyboard player and you can listen to his interpretation of familiar tunes by clicking on the titles below. If you click on the first title and don't stop the player, it will play all the songs - over 30 minutes of relaxing music.
"And I Love Her", "Blue Hawai", "Can't Help Falling in Love", "Crazy", "Crying", "I Dreamed", "Lonesome", "Love me Tender", "Never", "Petite Fleur", "The Ferry Boat Inn", "Too Young"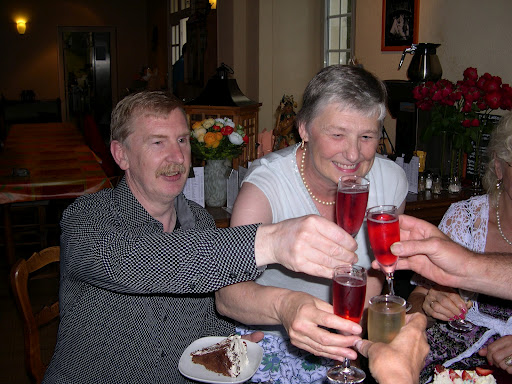 Enjoying a drink with their dancing friends.
VAN ACKER Choreography
Marcel & Chris' website: https://marcelicbd.wixsite.com/christel-rounds2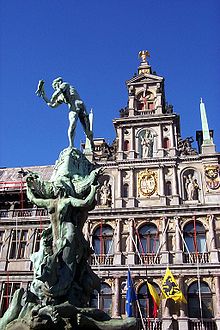 According to folklore, and as celebrated by the statue in front of the town hall, Antwerp got its name from a legend involving a mythical giant who lived near the river Schelde. He exacted a toll from those crossing the river, and for those who refused, he severed one of their hands and threw it into the river. Eventually, the giant was slain by a young hero named Brabo, who cut off the giant's hand and flung it into the river. Hence the name Antwerpen, from Dutch hand werpen—akin to English hand and warp - throwing the hand.
r
* * *
Guido and Ingrid Gircour
Also from the Antwerp area, Guido and Ingrid are a caller/cuer couple... but an unusual one: Ingrid is the caller, Guido the cuer.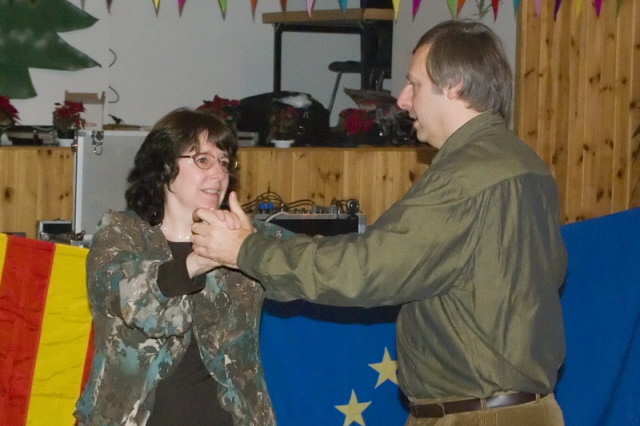 GIRCOUR Choreography