Loading the player ...
Rollover Button Maker by Vista-Buttons.com v5.7
CAROUSEL CLUB 238
The Carousel Clubs organization was established in 1972 as a federation of round dance clubs that joined together with the following goals:
1) to promote round-dancing at the high-intermediate and advanced levels
and
2) to provide a forum for member clubs to share a common repertoire of dances.
Frank and Iris Gilbert came up with the idea and dubbed their advanced class in Florida as NCC #1 (it no longer exists). Within 4 months there were 18 clubs and at the end of the first year, there were 34. The Carousels purpose was also to eliminate step cues and to publish a figure manual based on the international ballroom style, the basis for our advanced choreography. Eddie and Audrey Palmquist recognized the value early on and joined as NCC #36. In 1976, they also invited to a barbecue at their home the R/D leaders who were attending the National Convention in Anaheim. They sat, and ate, ... and drank and talked ... and complained about playing second fiddle at square dance events ... and late into the night, vowed to do something about it. Audrey had them all sign a tablecloth as proof of their commitment to support the Gilberts in hosting the first Worldwide round dance convention in Kansas City in the Summer of 1977. It was attended by 329 couples. Irv and Betty Easterday are the only teachers who were there in 1977 and are still teaching today. It was at that first R/D convention that URDC (Universal Round Dance Council) was formed. In 1998, after the Gilberts passing, the Carousels ceased to be a separate entity and became part of URDC, now known as ICBDA (International Choreographed Ballroom Dancing Association).
Click on the picture for appropriate music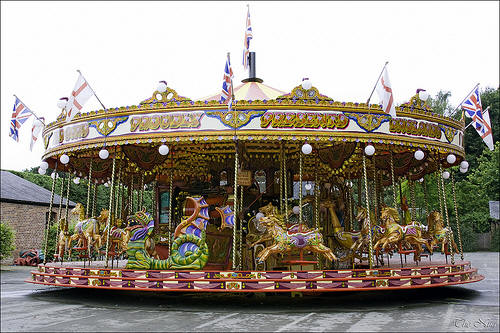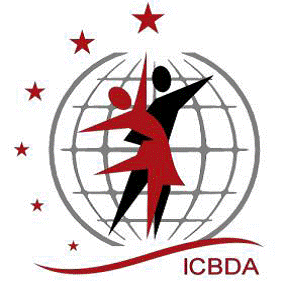 There are currently over 1000 ICBDA members and 101 active Carousel Clubs worldwide with clubs in the United States, Australia, Belgium, Canada, Sweden and The Netherlands. Each club provides a monthly report and, from the reports, lists of the most taught dances in the past month, the past four months and the past year are generated and distributed to the members. Every year ICBDA holds a four-day convention that provides three dancing halls with teaches at phase IV, V and VI. The monthly Carousel reports contribute to the identification of dances to be part of the convention evening dance programs.
Our Club (238) was invited to join by Frank Gilbert at the first URDC Convention that we attended in 1993 (San Francisco)
The famous table cloth apparently still exists.
***********************
ICBDA Archives:

Click on Carousel for more info on Carousel Clubs
**********
100th Birthday Party





Eddie & Audrey Palmquist

- 1980s



Audrey Palmquist

July 28, 1910 - September 11, 2010

We Remember Audrey - by Sandi Finch


Audrey Palmquist, the remaining half of the incomparable round dance team of Eddie & Audrey Palmquist, died peacefully in her sleep Sept. 11, 2010, at her home in Laguna Woods, CA. She had just celebrated her 100th birthday. Eddie died in 1999.

A native of Hamilton, Canada, Audrey was born into a family where no dancing was allowed. She discovered dancing when, as a school teacher, she was required to take a YMCA recreation class to oversee playground activities at the school. Folk dancing was part of the YMCA curriculum, and she fell in love with dancing. With her first husband, Van Van Sickle, she started folk dance classes in local churches, started two round dance clubs and became a charter member of the Toronto and District Square Dance Association.

She met Eddie Palmquist when she organized two groups of dancers?one from Chicago and one from Niagara Falls?to go to the 1964 National Square Dance Convention in Long Beach, CA. He had been widowed earlier that year and was a last minute substitute to teach a basic tango clinic. Audrey was the moderator scheduled for that clinic. She asked him to come to Toronto twice after that to put on clinics for her classes. She moved to California in 1966 to teach with him and they were married in 1968. Each has an extensive list of choreography to their credit, and together they wrote nearly 200 round dances and put on dance improvement clinics throughout the United States before retiring in 1996.

Ten of their dances have been named to the ICBDA Hall of Fame, more than any other choreographer. They received the highest honors given by any of the international round dance organizations, including Roundalab?s Silver Halo Award and URDC (ICBDA)?s Golden Torch Award.

Audrey & Eddie were instrumental in the formation of URDC. They hosted a barbecue at their home for cuers and dancers who had just attended the 1976 National Square Dance Convention in Anaheim, to talk about forming a separate national round dance only convention. Audrey had those in attendance sign a tablecloth as proof of their commitment to support the Gilberts who would host the ?First Worldwide Round Dance Convention? the next year.

They were also among the charter members of Roundalab, attending the first convention in 1977 and being named to its first Standardization Committee.

She is survived by her son Paul Van Sickle and Eddie?s five children. She and Eddie are also survived by 20 grandchildren, 26 great grandchildren and two great great grandchildren.
Our Two European Dance Weeks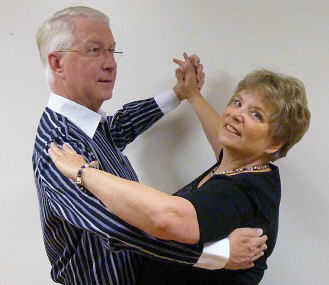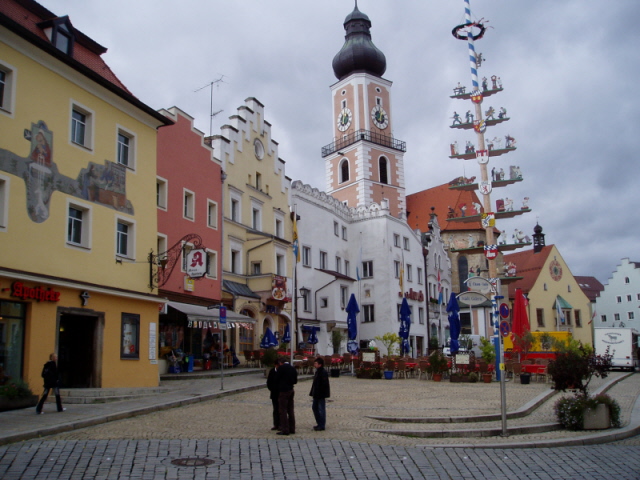 The Cham Week : Takes place every year in Cham, Upper Bavaria, Germany, starting on Easter Sunday through the following Friday. The hosting hotel is in the very center of Cham, a lovely little town close to the Czech border (take an extra day or two to visit Prague!). The traditional program includes three teaching levels of rounds in the morning (III-IV, IV-V and V-VI) and three teaching levels of squares in the afternoon (Plus, A1 and A2). The early dinner is followed with 75 minutes of rounds (including reviews and requests) and the evening program consists of two and a half hours of square dancing (at one's chosen level) with rounds between tips. The three R/D teaching teams consist of the Rotscheids (organizers) plus two couples imported from the USA (well known and respected teachers like the Worlocks, Rumbles, Nobles, Preskitts ...). Don Casper is the designated after-party organizer and there is self-created entertainment every night. Click on the Rotscheids' picture to be transported onto their web site and learn more about the Cham week.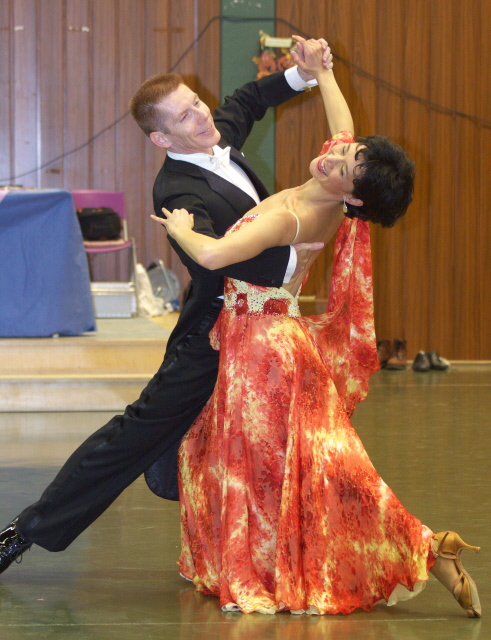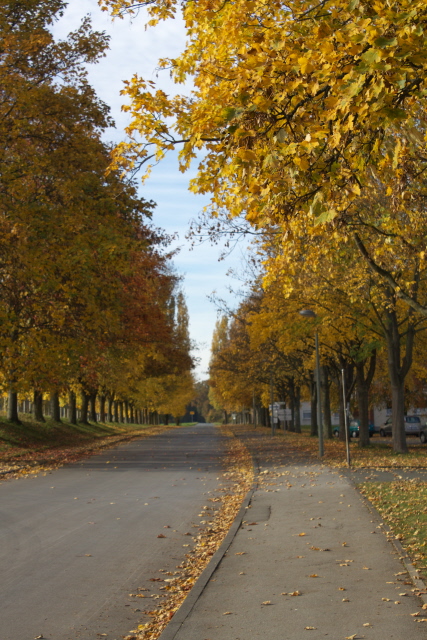 The Lamberty Week : Five days of fun hard work (yes, there is such a thing) held at the very end of October (yep, expect a bit of a Halloween atmosphere!) and featuring Richard Lamberty and Alise Halbert as the teachers, choreographers, superb dancers and entertainers. Two teaching levels of rounds: phase IV during the weekend, phase V/VI during the week days. Every day focusses on a particular rhythm, studied in depth, and a dance is taught in that rhythm. The teaching takes place in the morning and in the afternoon (with a long lunch break) and dancing resumes after dinner: reviews, just dancing, exhibitions, just dancing, after-party, just dancing.... The evening cueing is shared between the organizer, Klaus (and Marion) Voelkl and one or two other German competent cuers (with Sammy & Ingrid David on the picture below).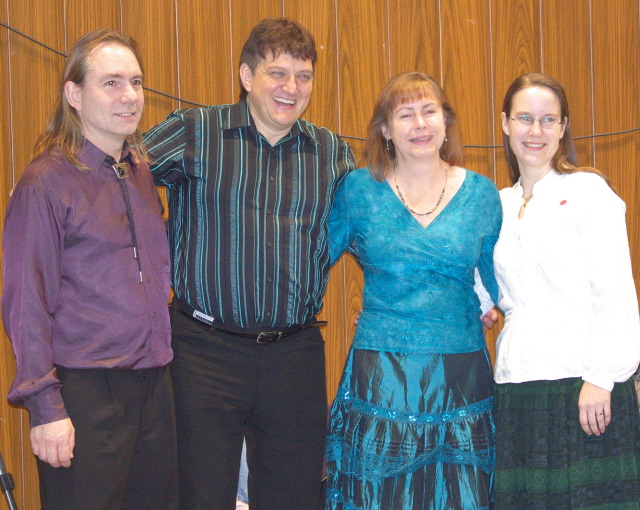 Change Over the Years
by Sandi & Dan Finch
Round dancing has traditionally started with two-step and waltz, the two rhythms standardized at phase I and II of the RAL Manual of Standards. But, times change. We believe people want something they can take out to a wedding reception or night club. The Latin rhythms with waltz seem like a better place to start.
Round dancing is continually undergoing change. Originally, all round dancing was part of square dancing, then in 1948, the first round dance clubs were being formed. In 1950, the first round dance syllabus of basic steps was written. In the 1970s, English techniques and cue terms (called "international") were introduced, and drew much criticism in the beginning. Instructors were even blackballed in the 1970s for introducing rumba and cha cha. Round Dancer Magazine 40 years ago (March 1975 edition) carried an editorial that noted that 1700 new gimmicks had been added to square dancing in the previous 10 years and no one complained. Thatís how an activity grows, it noted. Round dancing should also be allowed to grow, it said. "Ballroom" was a term used derogatorily by many in round dancing, but the editor wrote "I would wager if all ballroom steps were eradicated from our round dancing, only about 30% of the presently used basics would remain."
In the March 1975 edition, the #1 most popular dance was Eddie & Audrey Palmquistís Tips of My Fingers. Dream Awhile, Spaghetti Rag, and Letís Dance, one of the first advanced quicksteps in round dancing, led the classics list in the magazine. Weíve come a long way since those days, but those dances are still perennial favorites.
Some sense a new shift in round dancing today. More and more teachers are commenting that their clubs donít want so many "killer" dances, even at the advanced level, but want to enjoy smooth choreography to great music. The December 2014 Carousel Club list of most taught dances by member clubs featured four phase IV dances among the Top Nine. Where do you stand on that idea?
******